Doing What You Love To Do – Part 1
(This is the first part of a two or three part series on "Doing What You Love to Do".)
Scott Hanselman once talked about three aspects to evaluate the dream job. They are: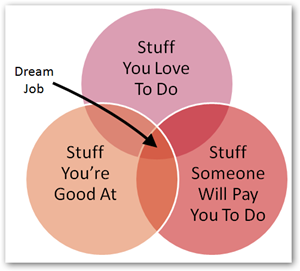 Doing Stuff You Love to To
Doing Stuff You're Good At
Doing Stuff Someone Will Pay You to Do
Why do you think these concepts are so important to consider as you start your first on-line business? One of my good friends, Melissa S., couldn't say it better:
I think it is very wise for Prosper to encourage the students to pick something they love to market. I love ballroom dancing and I guess there is a gene in most women that makes them love shoes.
Because of Melissa's decision to do something she loved to do, she has seen amazing results with her first website.
As many of my readers know, my first website was all about clogging shoes and the clogging dance industry. I was such a wild little kid that my mom did everything she could to calm me down. She put me in every sport, piano lessons, singing and finally, after exhausting all other options, clogging was an attempt to drain me of unnecessary energy. At the time I don't know how much I really liked it, but, it's paid off now in more ways than I ever imagined. Clogging is really why I'm now so actively involved in the search engine optimization and on-line marketing industry. Without that first website idea, I would not be doing what I do today.
So why is it important to do something you love to do? As I mentioned in a previous post, starting an on-line business isn't easy. You have to be patient, diligent, hard working and persistent. Luckily I had a mentor that took me by the hand and walked me through some of his trials and errors (although he wouldn't claim he had too many 🙂 ) so I didn't have to go through them on my own. He didn't tell me what industry I should get involved in to start, but he did have me write down hobbies, interests, and things I enjoyed doing. As I look back at my education, this was one of the first steps towards my success.
If you are just getting started with an on-line business or thinking about starting something new, this is my biggest recommendation – Do Something You Love to Do! Many people have a tendency to think, "What will make me the most money?" or "What's the best selling thing out there – I'll do that." I'm yet to see a mindset like this become really successful. Yes it's important to do market research. Just because I love to watch sports on TV doesn't mean that activity is going to make me money. But as you consider different options, don't rule some out just because you "think" they wouldn't be profitable or you "think" they are too saturated with competitors.
In Part 2 of this post I plan to do a case study on a client that has really seen success with her first on-line business because she followed this simple concept – she picked something she loved to do and then monetized it.